Last night we had our annual "Guess Who's Coming To Dinner" party to benefit The Opera Society for Florida Grand Opera.  Yogi, our little 12 pound Doxi-Poo, was the official greeter.  The first guest to arrive was Roy Simmons.  Yogi greeted poor Roy with so much gusto that I thought Roy was going to have a heart attack!  Yogi's enthusiasm continued when Nancy and Wes Fetzer arrived with their little Australian Labradoodle named Schatzi.  The two of them get along famously.  Hanna and Jay Zukowski joined the party with  arms opened as Yogi rushed to greet them.  Tony and Mary Ann Stefanelli also joined us along with Michael Asser.
The theme of the meal was "A Trip to La Scala".  There is a restaurant in Milan named La Scala that is famous for their smoked tuna so I decided to prepare that for the first course.  The preparation got a little tricky since I didn't have a smoker and needed to jerry-rig one.  On top of that, I live in a condo and the rules are, NO FLAMES ON THE BALCONY. I decided to smoke the tuna at my office.  (I have plenty of outdoor space there) I used a small, table-top, Weber grill and put just enough charcoal in the bottom that it would fit one half of the grill.  I wrapped the smoking chips in foil, leaving both ends open to let the smoke out.  Then I filled a half-sheet foil pan with water and molded another half-sheet foil pan to fit criss-cross at one end on top of the pan with the water.  The sushi-quality tuna went into that pan drizzled with a little bit of olive oil and seasoned with salt and pepper.  When the coals were ready, I moved them all over to one side at the bottom of the grill, then added the smoking chips, then the my concoction of water and tuna with the tuna on the opposite side of grill away from the heat source.  Voila,  it worked, I got a really good smoke in a short amount of time with little heat resulting in a buttery, melt-in-your-mouth, mouth feel with a hint of smoky flavor.  This dish was garnished with lemon and served with a crostini, extra virgin olive oil, sea salt and a 20-year-old V.S.O.P balsamic vinegar  aged in wood and reduced by half.  I paired this velvety smooth dish with Whispering Angel rose from Cotes' De Provence, a light, dry and crisp wine that cut through the smokiness of the tuna and gave it great balance.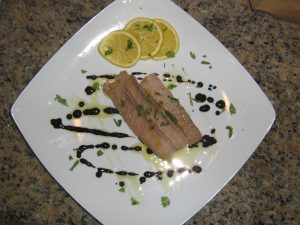 The second course was creamy pappardelle with leeks, bacon, tarragon and pernod.  Preparing it is easy, finding that shape was yet another challenge.  I finally found it in a local Italian specialty store.  My original recipe did not call for tarragon or pernod, but since I had the tarragon on hand, I decided to go for it.  This dish really has a lot of zing to it because you have the pernod and tarragon kind of playing off each other on the palate.  It is the best pasta I've ever had.  I served it with Orvieto Classico, a delicate, fruit and floral white wine, accented with hints of pears.
Heat oil and butter in a large heavy pot over medium heat. Add bacon and cook, stirring often, until fat is rendered and bacon is crisp, 5-8 minutes. Add leeks and season with salt. Increase heat to medium-high and cook, stirring often, until leeks begin to brown, 5-8 minutes. Add cream, tarragon, pernod and 1/2 cup water. Bring to a boil, reduce heat, and simmer, stirring occasionally, until sauce is thickened and coats the back of a spoon, 5-8 minutes.

Meanwhile, cook pasta in a large pot of boiling salted water, stirring occasionally, until al dente. Drain pasta, reserving 2 cups pasta cooking liquid. Add pasta, Parmesan, and 1 cup pasta cooking liquid to sauce and stir to coat. Increase heat to medium and continue stirring,adding more cooking liquid as needed, until sauce coats pasta.
© Galley Chef All Rights Reserved
To cleanse the palate, I prepared a basil-mint-lemon sorbet.  It's a delicious, well balanced flavor combination that is rarely thought of.  The sorbet stole the show.  Everyone raved about it and I even had a few requests for seconds!
In a small saucepan, combine the water, sugar, lemon zest and lemon juice. Bring to a simmer and cook until the sugar is dissolved, about 10 minutes. Add the basil and mint and set aside to steep for 3 minutes. Strain syrup through a fine mesh sieve and set aside to cool. Transfer to the refrigerator until thoroughly chilled, then process in an ice cream machine. Transfer to a freezer-proof container with a lid and freeze until ready to serve.
© Galley Chef All Rights Reserved
Veal Milanese with arugula, tomato, shaved red onion and lemon vinaigrette came next.  This has always been one of my favorite entrees.  When I go to Italy, it's the one dish that I lean toward 4 out of 7 nights a week.  For me, it's one of those dishes that I just can't get enough of……and soooo easy to make.  My secret is in the breading, I always add Parmigiano Reggiano cheese and fresh basil to my bread crumbs.  It not only gives it a flavor lift, but it also provides a really crisp texture.  I served a Chianti Classico with the veal from Tuscany.  It had a distinctive red berry aroma with a hint of licorice and spice.
An icy cold frozen Limoncello was served next.   Limoncello is a digestive and considered to be the national drink of Italy.  It is made by steeping lemon zest in grain alcohol then adding simply syrup.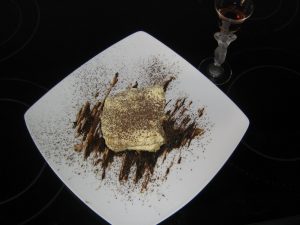 Last but not least, we arrived at the dessert course.  When I think of Italian desserts, only one comes to mind, Tiramisu. This wonderful, creamy, coffee-flavored sweet makes everything right with the world!  I have tried many Tiramisu recipes, but this one, is by far the best.  And there you have it…….a meal fit for an Italian Prince or Princess.  Buon appetito!
Combine egg yolks and sugar in the top of a double boiler, over boiling water. Reduce heat to low, and cook for about 10 minutes, stirring constantly. This is your sabayon, remove from the heat and whip yolks until thick and lemon colored.Add Mascarpone to whipped yolks, beat until combined. In a separate bowl, whip cream to stiff peaks. Gently fold the whipped cream in the mascarpone sabayon mixture and set aside.

Mix the cold espresso with the coffee liquor and dip the lady fingers into the mixture just long enough to get them wet, do not soak them! Arrange the lady fingers in the bottom of a 8 inch square baking dish (or 6×9)

Spoon half the mascarpone cream filling over the lady fingers. Repeat process with another layer. Refrigerate 4 hours or overnight. Dust with cocoa before serving
The ingredients can also be layered into individual serving glass serving dishes such as martini glasses for a festive and fun presentation. © Galley Chef All Rights Reserved