"A silence fell at the mention of Gavard. They all looked at each other cautiously. As they were all rather short of breath by this time, it was the camembert they could smell. This cheese, with its gamy odour, had overpowered the milder smells of the marolles and the limbourg; its power was remarkable. Every now and then, however, a slight whiff, a flute-like note, came from the parmesan, while the bries came into play with their soft, musty smell, the gentle sound, so to speak, of a damp tambourine. The livarot launched into an overwhelming reprise, and the géromé kept up the symphony with a sustained high note." 
― Émile Zola, The Belly of Paris
I took a journey through my taste buds last night at Whole Foods Market's new "Cheese Night".  It was all about the complexity of flavor in raw-milk cheeses and what makes them unique.  Certified cheese professional, Lynn Battels and David Hall, up and coming certified cheese professional, explained what a "raw-milk" cheese is, how it's made, and how to taste it, with four of our five senses.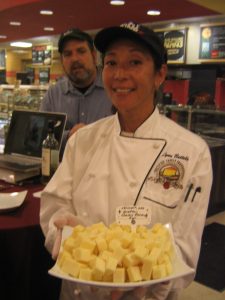 Looking at a particular artisan cheese can tell you a lot about the type of milk that was used to make it.  Goat milk cheese, for instance, is much whiter in appearance than cheeses made from other types of milk.  Look at the rind and the fissures in the cheese.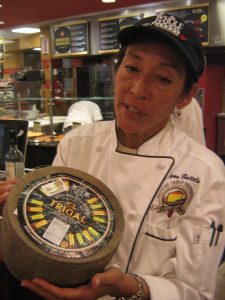 Then there is the smell…. A mild aroma is sometimes described as floral, perfumy, fresh, sweet, grassy or nutty.  A strong aroma is described as barnyardy, earthy, funky, musty, sour, ripe or stinky.  Lynn explains, if you break up the cheese in the palm of you hand and roll it between your fingers, this will warm the cheese and expose more surface area, therefore releasing the cheese's aromas.  Then take a good whiff, exhaling through your nose and viola!  There you have it.  
Tasting the cheese is all about being in the moment.  I close my eyes and focus solely on my breathing. (in from my mouth, exhaling through my nose) Then, rolling the cheese on the back of my tongue until it melts, ever so slowly, on my pallate while thinking about the mouth-feel.  Often the difference between mediocre cheese and excellent cheese is in the finish.  There are eternal truths to be recognized, just as there are eternal harmonies in a Beethoven sonata.  Ultimately, a cheesemakers' goal is to achieve balance among the five human taste areas: sweet, salty, sour, bitter and umami.  It is all about that universality and transcendence.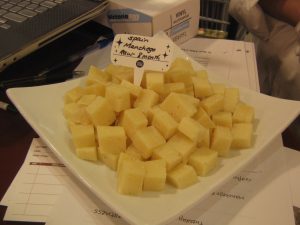 We started with an 8 month aged Manchego cheese from Spain.  Made from raw sheeps milk, this cheese has a firm consistency and a buttery texture with  a kind of sour note to it.  It is made in the La Mancha region of Spain from the milk of sheep of the Manchega breed. Official Manchego cheese is to be aged between 60 days and two years.   The designation Queso Manchego is protected under Spain's Denominación de Origen (DO) regulatory classifaction system and has been granted Protected Designation of Origin (PDO) status by the European Union.  We tasted the Ruffino Orvieto Classico with it.  This is an Italian white wine produced by Ruffino in the Tuscany region of Italy.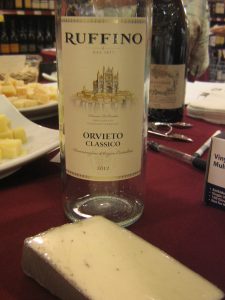 When I think about the great cheese makers of the world, I think immediately of French and Italian cheeses, however, there are some really good artisan cheese makers cropping up all over America.  Grafton Village Farms out of Vermont is one of them.  We tasted their Classic Reserve Cheddar, a raw cow milk cheese with a creamy texture and the classic cheddar flavor we all love.   The designation of "Raw Milk" is reserved for cheeses made from milk that has not been heated to more than 100 F.  At this temperature, the hundreds of varieties of bacteria continue to thrive and interact with the milk, giving a greater, deeper flavor within the cheese.  In the United States, the FDA requires raw (unpasteurized) milk cheeses to be aged a minimum of 60 days.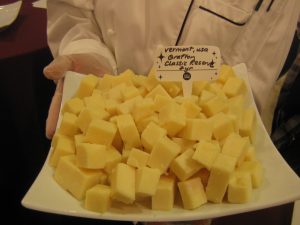 We tried the "Le Gruyere Reserve", a raw cow milk cheese from Switzerland.  Considered to be the best "melting" cheese to use in fondues and for baking.  This cheese has a creamy-nutty-mushroomy flavor with the pronounced salt crystals that I so desire.  It's complexity is next to none, however, it never overshadows the other ingredients it's married with.  They can only fit 156,000 wheels of cheese in the caves of Kaltbach in Lucerne. It's never enough is it? My favorite sandwich has to be the Croque Monsier.  Made with Gruyère, bechemel and ham on a croissant, this sandwich is gooey, creamy, cheesy and comforting all at the same time.
Preheat the oven to 400 degrees F. Melt the butter over low heat in a small saucepan and add the flour all at once, stirring with a wooden spoon for 2 minutes. Slowly pour the hot milk into the butter–flour mixture and cook, whisking constantly, until the sauce is thickened. Off the heat add the salt, pepper, nutmeg, 1/2 cup grated Gruyere, and the Parmesan and set aside. Lightly brush half the toasted croissants with mustard, add a slice of ham to each, and sprinkle with half the remaining Gruyere. Top with the other half of croissant. Slather the tops with the cheese sauce, sprinkle with the remaining Gruyere, and bake the sandwiches for 5 minutes. Turn on the broiler and broil for 3 to 5 minutes, or until the topping is bubbly and lightly browned. Serve hot.
For a Croque Madame Melt 1 tablespoon butter in a skillet over medium heat. Cook one egg for each sandwich sunny side up. Turn egg over and cook 3 minutes longer for soft-cooked egg. Place 1 fried egg on top each sandwich. Season egg to taste with salt and pepper and serve. © Galley Chef All Rights Reserved
I have to admit I am passionate about all types of cheese, from the humble ones to the exotic.  Parmigiano Reggiano, known the world over as the "King of Cheeses", is a raw cow milk cheese, some say, from heaven!  The one we tasted was from Modena.  There, it is an important part of the local traditional gastronomy and incorporated into antipastos, pastas, entrees and even desserts.  It takes 148 gallons of milk just to make 1 wheel of Parmigiano Reggiano!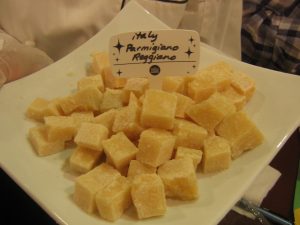 The Parmigiano Reggiano was paired with Gran Passione Rosso, a light red wine, almost like an Amarone.  It is from the Chianti Classico region of Italy and revives the old tradition of including white grapes in the blend, resulting in a softer flavor.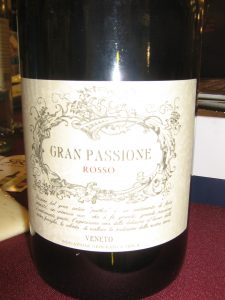 When milk is pasteurized, the naturally occurring enzymes are destroyed.  Raw milk keeps that important flavor foundation, resulting in cheeses that are more complex.  I have to admit, I definately have a greater appreciation for cheese after this event, and who knows, maybe one day I'll attempt to make my own artisan cheese!
"Life is great. Cheese makes it better."