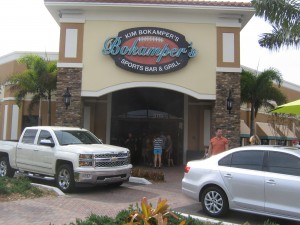 Initially my fears were realized when I found myself standing in a line of twenty people at the door of Kim Bokampers Sports Bar and Grill. However, the line went fast and I was seated within minutes. Even with the wooden tables and the crowds of people standing two deep around the bar, the mood of the place was captured: televisions lining every wall end-to-end, lively patrons cheering spontaneously as the football games streamed across the screens, the hum of conversation, the bustle of servers with plates piled high coming out of the kitchen, every table occupied, the feeling that what was happening was worth being a part of.
The server greeted me right away as I sat on the patio overlooking the intra-coastal water way. She had a big smile and a bright, sunny attitude. I was here about ten days ago and asked for a gluten-free beer but the manager told me they didn't have any yet. He said it was on order and it would be in sometime next week. So I asked my server if they had any and she said they had one, "Angry Orchard". It tasted like apple cider and upon further investigation; I found out that it is hard cider, not beer.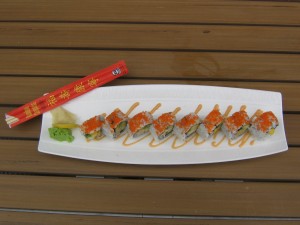 The "tropical roll" looked like an interesting menu choice. For $14.99 you get a sushi roll filled with pineapple, cucumber, mango, avocado and albacore tuna. It took 10 minutes and was well executed and beautifully plated with a delicious sesame-sriracha sauce. All of the ingredients were fresh with the exception of the star of the plate, the albacore tuna. It tasted like a washed up sea urchin that had been sitting in the sun for a few hours!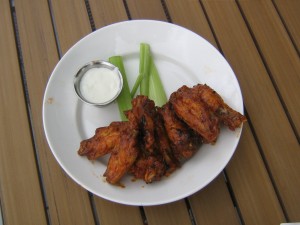 Bokampers is famous for their signature chicken wings. The wings are tossed in a combination of medium, BBQ and garlic sauces, and then grilled. For $13.99 you get ten "Bo's wings". I decided to try them; after all, this is a sports bar and what better to eat while watching the game? The wings took 20 minutes to come to the table and were served just barely warm. I must admit though, the flavor was perfect. A little spicy and a little sweet, delish!
Overall, the service was good and I had no problems with my bill. They got it right the first time…..amazing!……and they didn't automatically add in the gratuity, something that I detest!
Bokampers menu features mostly comfort food like peel and eat shrimp, smokehouse ribs, fish n'chips and macaroni and cheese. Finger foods are also prevalent on the menu with mahi-mahi fish tacos, BBQ pork sliders, sandwiches, wraps, and a variety of flat breads and burgers. Mostly everything is reasonably priced under $20.00 with the exception of the New York strip steak at $26.99.
Be prepared if you are a non-smoker and you want to sit outside. The entire patio section allows smoking. Some of the smoke drifted towards small children at neighboring tables. If you don't like it, you have to sit inside or go somewhere else. For boaters, the convenience of docking on the intra-coastal waterway goes a long way.
With families and people of all ages dressed in shorts, sneakers, t-shirts and swim suits it's a great casual place for college students to go to watch the game and hang out with friends, however, it lacks the charm of places that have been doing the same thing for decades, a time when eating out was enchanting and special, reserved for either the beautiful people or an occasion. This restaurant is located at 3115 NE 32nd Ave., Fort Lauderdale, FL 33308.