For years, Shooter's has been a staple for South Floridians and tourists alike. It has been the go-to place for a great sandwich and a cold beer. The restaurant, located at 3033 NE 32nd Ave., was purchased along with Bootleggers in a package deal by Grateful Palate's owners back in July of 2013. It closed in August of 2013 for renovations and re-opened on February 10, 2014.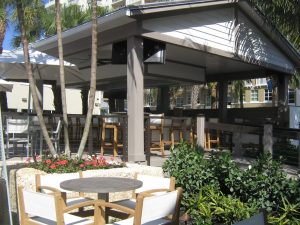 Renovations include the demolition of the pool in order to make room for a stunning patio and outside bar. Designer Deborah Frustino created a Shangri-La with the harmonious combination of over-sized love seats, cabana chairs, umbrellas, palm trees and a fire pit with a marvelous view of the sunset.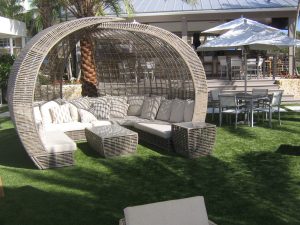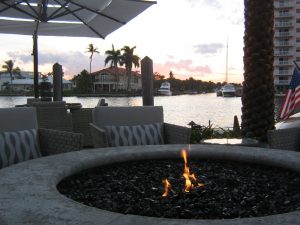 Seemingly isolated from the outside world, time appears to stand still in this tropical paradise. Specialty cocktails include everything from a blueberry-ginger bellini made with Stoli blueberi vodka, ginger simple syrup, blueberries and champagne ($10.00) to the Shooter's seasonal specialty margarita made with Herradura reposado tequila and agave syrup. ($12.00)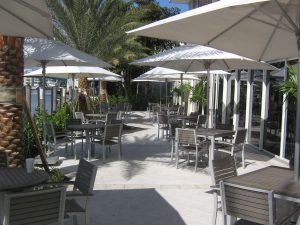 The sleek silver-grey dining room radiates modern elegance with hardwood floors and a streamlined "beachy chic" decor. A panoramic wall-to-wall window gives way to a view of Fort Lauderdale's beautiful Intracoastal Waterway and additional seating along the 340 foot dock.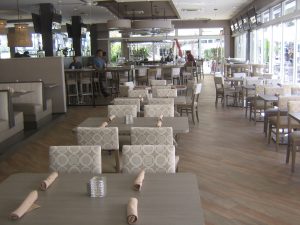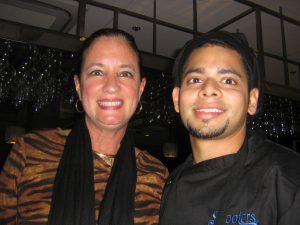 Executive Chef Mohamed "Mo" Khan has designed a versatile menu with something for everyone.  He gets his culinary experience from cooking at Corbin & Reynolds, City Cellar, Onyx, Montego Bay Grill, Kasey's, Mcquades Grill and Seasons 52, just to name a few.  He obtained a B.S. in Culinary Arts from WalesUniversity in Providence, RI.   One of Chef Mo's favorite items from the Shooter's menu is the salmon tartar from the raw bar.
Dice salmon. Add shalllots, chives, citrus vinaigrette. Spoon mix into a mold. Top with dressed frisee and potato gaufrettes.
For the Potato Gaufrettes
Criss cross peeled potato on mandoline slicer and place directly into water to prevent browning and remove starch. Fry at 350 degrees until golden brown.
© Galley Chef All Rights Reserved
The raw bar menu also offers clams or oysters on the half shell, salmon tartare and jumbo shrimp cocktail averaging about $14.00 per dish.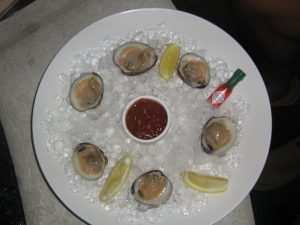 The "Point Judith Calamari" is a crispy take on Pad Thai with peanuts, scallions, lime, rice sticks, and Thai chili sauce. ($12.00) Nurture your comfort food craving with the Gruyère mac and cheese ($10.00) or  the signature burger made with special ground short rib, brisket and sirloin smothered in a special sauce.($14.00) There is also a Grilled Filet Mignon with truffle mashed potatoes, grilled asparagus, gorgonzola empanadas and port wine demi-glace. ($29.00)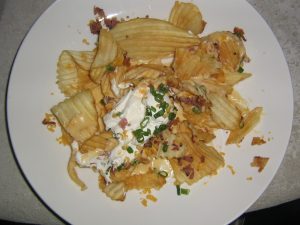 Other interesting menu items include oyster po'boys ($14.00), Irish nachos made with potato chips, scallions, bacon and sour cream, ($9.00) jerk rubbed pork tenderloin with plantains, pineapple, coconut, scotch bonnet, and tomatillo salsa ($18.00) and a culinary triumph, stout short ribs,($26.00) which is what I had – delish!  Chef Mo Khan has really put his heart and soul into this dish.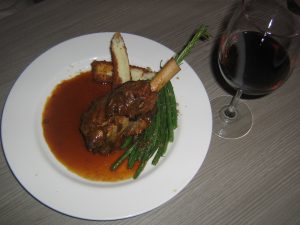 Dom Perignon ($295.00) and Veuve Clicquot ($95.00) are included on the champagne list, a refreshing change of pace from most restaurants.  There are lots of fabulous wines to choose from with most varietals starting at around $30.00 per bottle. Beer choices are ample as well, including a draft beer from our very own "Funky Buddha Floridian" here in Fort   Lauderdale.
Shooter's "happy hour" is open Monday thru Friday from 4:30 until 7:00 with half price call drinks. Lunch is being served starting February 17th.  Dogs are welcome.