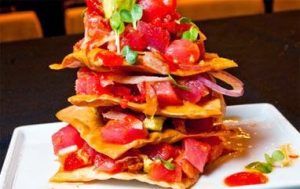 With a quaint atmosphere that seats about 100, there's a "pub-style" feel to it featuring a two-story beer wall that offers over 350 types of beer, (including 250 craft beers), over 60 wines on tap – 32 of which are by the glass.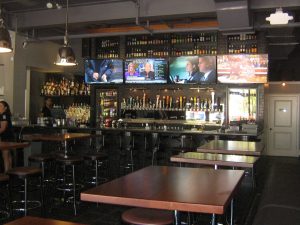 Unfortunately, there  is no local beer from our very own Funky Buddha Brewery, however, that could be forthcoming.
I am a self-proclaimed ice fanatic, as is my husband, to the point that we  won't even consider  buying a  refrigerator with an ice  maker that produces half-moon shaped ice cubes.  (They get stuck in the bottom of the glass then come crashing into your face splashing your drink everywhere)  Block ice, shaved ice, cracked ice, you-name-it ice, it makes a difference in the drink. Taps has 1 1/4″ solid cubes for the perfect craft cocktail-a standout!
Sandwiches come wrapped in parchment paper, an old-time pub  tradition.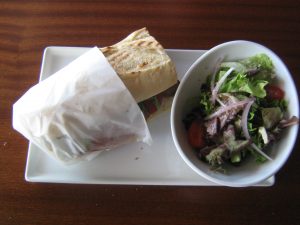 The sausage is house-made as is the Gyro meat.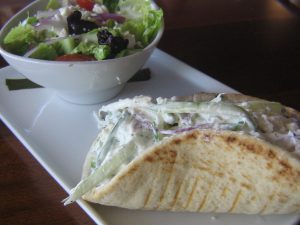 The average price for tapas, salads and sandwiches is around $12.00.   Owners Elizabeth and James DeVito say "Every day is happy at TAPS".  With happy hour from 4PM to 6PM, they offer $1.00 off draft beer, $5.00 single-liquor cocktails and house wines, and a $5.00 happy hour food menu that includes bacon wrapped jalapenos, bruschetta, fresh-baked artisan pretzels and more.
Taps Restaurant Bar and Lounge is located at 330 SW 2nd Street in Fort Lauderdale and has locations in Tampa, Orlando and Naples.