The warm winds of summer usher in a myriad of vibrant fruits and vegetables from our local farms.  So when I stumbled upon a road side stand the other day, I just had to stop.  There standing before me were the two most adorable Amish boys doting over a bowl full of freshly picked strawberries.  Laid out in front of them were beautifully presented tomatoes, garlic scapes, cucumbers, lettuce, onions, peas and rhubarb.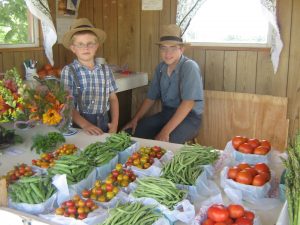 When I was a child, we had rhubarb growing in our back yard.  To keep the slugs off of it, bowls of beer were placed around the rhubarb, coaxing the slimy little creatures away from our precious vegetable and into the bowl of beer to meet their demise.  When the rhubarb grew to maturity with its subtle red hues, my Mother would make rhubarb pies and sometimes strawberry-rhubarb pies.  It is the quintessential dessert, sweet, but not too sweet, light, and colorful.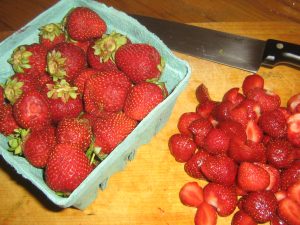 This is the perfect strawberry rhubarb pie recipe and it's a great way to get your kids to eat their vegetables!!!
In the bowl of a food processor add the flour, salt, sugar and butter and pulse until butter is the size of a pea. Add the cold water 1 tablespoon at a time while pulsing until mixture comes together and forms a ball. Divide in half and wrap in saran wrap and refrigerate.

Mix all the filling ingredients in a large bowl Preheat the oven to 350 degrees.

Roll the dough out on a floured surface with a rolling pin. Place it on the bottom of a pie pan. After rolling the 2nd dough out, slice it into 1/2 strips to make the lattice work for the top of the pie. Brush with beaten egg and sprinkle with a tablespoon of sugar. Bake for 50 minutes.
Feel free to use all strawberries or all rhubarb when making this pie. If you use all rhubarb, you might want to add a little extra sugar to sweeten it up. © Galley Chef All Rights Reserved