With double carbs (triple if you have bread with it to sop up the gravy) this is a heavy dish, but the farm hands needed all those carbs for energy way back when…… Great Grandma, Iretha Hunter, grew up on the nationally recognized historic farm in Carrol, Ohio known as Rock Mill.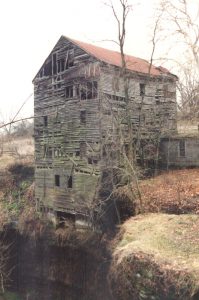 As summer came to an end all those years ago, and the wheat crops turned the hill sides their golden hue, a crew of men who operated the threshers (a device that separates the head of a stalk of grain from the straw, then separates the kernel from the rest of the head) would show up at Rock Mill to help with the harvest. There would have to be a mighty sizeable meal put out to stave off those hungry appetites.  So…. with a hen house full of chickens and  plenty  of flour from the mill, Great Grandma's homemade chicken and noodles over mashed potatoes and gravy was born.
Place a whole chicken in a stock pot and add water to an inch over the chicken. Add onion and garlic skins, parsley stems and bay leaves. Bring to a boil, then lower to a simmer and cook a couple of hours until pulling on the leg, it separates from the rest of the chicken. Remove chicken from stock. Let cool. Meanwhile, make noodles. (see "tender, buttery, egg noodles" recipe) After chicken is cool, take all the meat and fat off the bone and set aside. Reheat stock.

While stock is heating, make a roux by melting 1 stick of butter in a small saucepan. Add 6 T of flour. Cook until golden brown. When stock comes to a boil, add the rue and stir a couple of minutes. Add the noodles and cook 7 minutes. Add the chicken back in. Season with salt and pepper to taste. Ladle over mashed potatoes and sprinkle with parsley.
Peel the potatoes. Cut into a 1 inch dice. Add to a pan. Cover with water. Cook until tender. Mill the potatoes through a food mill into a large bowl. Add the remaining ingredients and stir.
© Galley Chef All Rights Reserved
After Grandma grew up and got married, she purchased a boarding house a half a block  away from Ohio State's High Street where she charged $100.00/month rent.  Dad decided to go back to school at Ohio State so they rented an apartment across the alley from Great Grandmas boarding house.  On moving day, after hours upon hours of moving furniture and boxes, both Mom and Dad were dead tired.  Great Grandma invited them over for dinner and made chicken and noodles over mashed potatoes and gravy.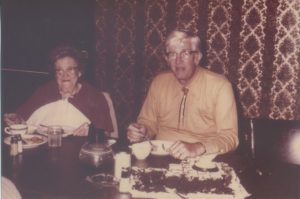 Mom said "it was to die for", "it couldn't have been better if it was caviar or filet mignon". This is one of many recipes my Mom remembers making with Great Grandma in her modest little kitchen in the basement of the boarding house and has passed down generation after generation.  She also made wonderful "cream and sugar" pies, which is a great topic for another post.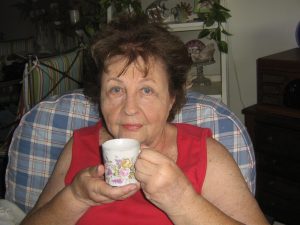 Sift flour and salt into a bowl. Make well and add yolks and a few tablespoons of water. Beat vigorously with a wooden spoon until combined adding more water as necessary.

Mix well with hands. Dough will be stiff. Knead until smooth and elastic. (5 minutes) Let stand ½ hour.

On lightly floured surface roll out as thin as you can get it into a rectangle.

Slice 2 inch wide strips of dough and stack them on top of each other.

Arrange on a cookie sheet. Let dry a couple of hours before cooking. Dried noodles can be stored in a covered glass jar in a cool place.
The noodle recipe is from my paternal Grandma "nu-nu" who is pictured below.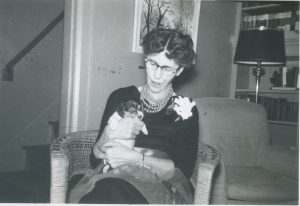 Let's raise a toast to Grandma's everywhere who have passed on great family recipes for us to enjoy. Let us celebrate these moments together, where the past and the present unite to remind us of the beautiful people who have touched our hearts and souls.
Note regarding featured image: The china in the featured image is "flow blue", a style of porcelain that originated in the Regency era, sometime in the 1820's among the Staffordshire potters of England. The name is derived from the blue glaze that blurred or "flowed" during the firing process.  These dishes are believed to have belonged to Great, Great, Grandma Clara, Iretha's Mother.