"A gourmet meal without a glass of wine just seems tragic to me somehow."
― Kathy Mattea
On Saturday, June 28, 2014 Anthony Road Wine Company had their 12th annual Martini-Reinhardt Winemaker's Selection Dinner.  The idea is to pair wines by renowned head winemaker, Peter Becraft and consulting winemaker, Johannes Reinhardt with delicious food prepared by Finger Lakes chef Samantha Buyskes.
The winery is owned by Ann and John Martini.  Perched high on a hill overlooking beautiful Seneca Lake and surrounded by flowers, gardens, and wild life. It was somewhat of a surreal experience standing in the midst of all this beauty with a glass of 2013 dry rose in one hand and a zucchini, feta & mint fritter in the other.  Some of the other captivating hors d'oeuvres were:  artichoke & caper deviled eggs, kale dip with crudité and asian lettuce wraps.
Dining was on the terrace overlooking the lake and vineyards with live music by quartet 442.
We started with a smoked trout & scallop napoleon layered with Yukon gold potatoes, and paired with a 2008 semi dry Riesling – the Governor's Cup winner, excellent! (my favorite of the night)….and the presentation……. astounding!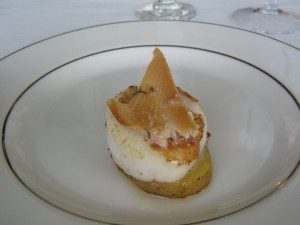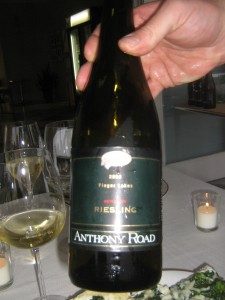 Next came buccatini with white bean, asparagus, shiitake mushrooms, lovage & Parmigiano Reggiano. For those who have not heard of lovage, this is a trendy new herb that chefs are using.  It has a celery-like flavor – perfect with the 2013 dry Riesling which had lemony notes and other citrus aromas.   Try this recipe.  It's easy and delicious.
Heat a pot of water until boiling. Add 1 tablespoon salt and 1 tablespoon olive oil to boiling water. Add pasta to boiling water and cook for 8 minutes until al dente; drain.

Meanwhile, heat ¼ cup butter with the remaining 2 T olive oil in a large skillet over medium-high heat. Add the mushrooms and asparagus, salt and pepper and cook for a few minutes until asparagus starts to soften. Add white beans and riesling and cook for about 4 minutes allowing the wine to cook down a little and the alcohol flavor to be removed. Toss in the pasta and lovage and mix it all thoroughly. Pour into a large serving bowl and top with parmesan cheese.
Celery leaves can be substituted for lovage.
© Galley Chef All Rights Reserved.
The grilled flatbread with goat cheese, broccoli rabe, mozzarella and red pepper oil was superb.  With just the right amount of char on the crust this pizza went beautifully with the 2013 pinot gris.  The Pinot gris was light and delicate with lingering notes of mango balancing out the richness of the cheese.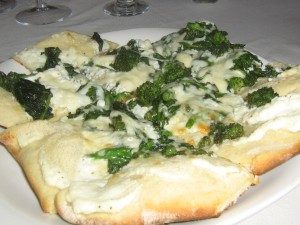 Chef Buyskes' grilled lamb loin chops with lamb sausage, lentils and artichokes were over the top.  The 2012 Merlot with heady blackberry and dark cherry aromas and flavors of cherry and vanilla was a match made in heaven.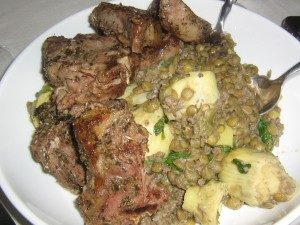 A simple but fabulous, ginger ice cream with blueberry compote and lavender shortbread, garnished with candied ginger was the grand finale. The sweet ice cream melts on the tongue, while the heavenly blueberry compote adds a surprisingly lively note which is balanced by the lavender shortbread. The Anthony Road 2012 Martini-Reinhardt Selection Riesling paired beautifully with it.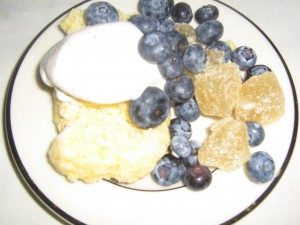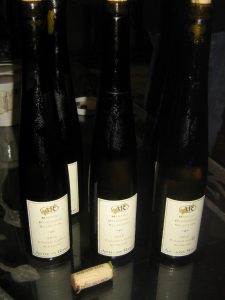 After each bite of food and each sip of wine, it was clear to me that the artisans making these delicacies, do so with a passion rarely seen. By the end of the evening I felt nothing but blessed for having had such an overwhelmingly inspirational feast.
"Seize the moment. Remember all those women on the 'Titanic' who waved off the dessert cart."
― Erma Bombeck