"Dining with one's friends and beloved family is certainly one of life's primal and most innocent delights, one that is both soul-satisfying and eternal."   Julia Childs
The convergence of Spring, Easter, family and friends resulted in one really spectacular meal. This past weekend we celebrated Easter with tender grass-fed Colorado leg of lamb, cheesy potatoes dauphinoise, asparagus with lemony butter, puree of carrot – light as a feather and spiked with cream, and that quintessential dessert, strawberry tart, with sweet pastry cream that melts on the tongue , and heavenly strawberries spiked with orange liquor adding a surprisingly peppy note that balanced the richness of the cream.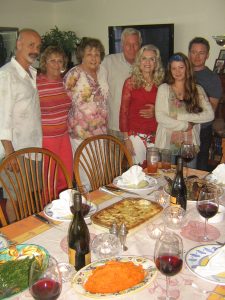 It  was finally time to taste that leg of lamb which had been roasting in rosemary and garlic  with its heady aromas for over an hour.  At the table we relished the sight of all the colorful dishes.  I had been looking forward to this meal and the company of friends and family all week.  Both elegant and colorful with flavors that pop ….. this meal is  a memory maker!
I tried to find a local butcher that had grass-fed lamb but that was like trying to whip cream with a toothpick.  I ended up ordering the lamb on-line from an organic Colorado farmer.   For the best looking presentation, I trimmed about an inch of flesh from the shank bone.  The fell is a thin outer layer of fat that you find if you buy an untrimmed leg from a butcher.  It's very  tough so it's important to remove all of it.  Trim the excess  fat that lies beneath the fell as well, leaving enough to enrich the meat and gravy.
I  purchased two legs so, with any luck, I would have leftovers to make shepherds pie.
The potatoes dauphinoise are classic.  They need to "rest" for 12 hours while under a press, so they make a great "do ahead" party dish.  In the unlikely event that there are leftover potatoes,  heat up a stack for breakfast with a poached egg on top.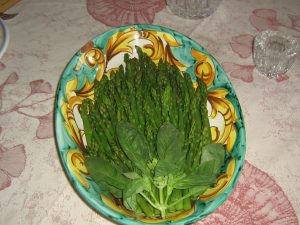 Check out the beautiful spring-like feel to this dish of asparagus.  Line up cooked asparagus spears and drizzle with lemony butter (lemon zest and butter) for an unforgettable presentation.  Serve warm or at room temperature.