You could call a Caesar salad Italian, after all, it was invented by restaurateur Caesar Cardini, an Italian immigrant. Or, you might call it Mexican, since it made it's debut in Tijuana, Mexico at one of Cardini's restaurants. Cardini's daughter Rosa has said that her father invented the dish when a Fourth of July rush depleted the pantry at the restaurant. Cardini made do with what he had and ended up with Caesar salad. At the time, the romaine leaves were dressed whole and plated, and meant to be eaten by picking them up by the stem and eating them with the fingers, as opposed to cutting up the lettuce, as is done today.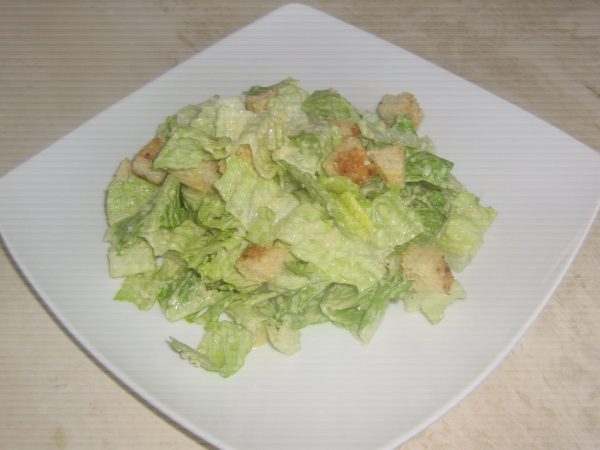 | | |
| --- | --- |
| | |
In the bowl of a food processor, mix the egg yolks, anchovies, garlic, mustard, Worcestershire sauce and lemon juice. With the food processor on, slowly add the olive oil until the dressing thickens. Refrigerate.
Preheat the oven to 350 degrees. Cut the crust off the baguette. Cut the baguette in long 1 inch thick slices. Put the bread on a sheet pan lined with parchment paper. Melt the butter in a small saucepan. Add the garlic, turn off the heat and let it sit in the hot butter for 5 minutes. Brush both sides of the bread with the butter mixture.

Cut the bread into 1 inch cubes and cook for 10 to 12 minutes until golden brown.
Wash and dry the romaine lettuce. Cut the leaves into bite size pieces. Put them in a large bowl and toss with just enough salad dressing to lightly coat. Add the parmesan cheese and toss. Divide among 4 plates and top with the croutons and extra anchovy.
If you don't like anchovies, or you can eat them due to allergies or pregnancy, substitute them with 1/2 teaspoon of salt. The dressing will still be absolutely delicious. © Galley Chef All Rights Reserved