Rack of lamb is usually an entree reserved only for special occasions.  However, this recipe is so easy that it can be prepared ahead of time and popped in the oven for 40  minutes before you're ready to eat  (25 minutes of cooking time and 15 minutes  of resting time) ….leaving you time for entertaining.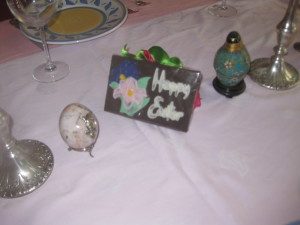 Season the racks of lamb with salt and pepper. Let stand at room temperature for 1 hour. In a bowl, stir together the bread crumbs, rosemary, salt and pepper. In a small bowl mix the mustard, egg and garlic. Preheat an oven to 375°F. Brush the meaty side of each lamb rack with 1 Tbs. mustard mixture.

Pack the bread crumb mixture onto the meaty side.

In a large fry pan over medium-high heat, warm the olive oil until just smoking. Add the lamb racks, bread-crumb side down, and brown on both sides, about 2 minutes per side. (you can prepare the lamb up to a day ahead of time and stop here, then finish 40 minutes before you're ready to eat.) Bake in the oven for 20 to 25 minutes. Transfer the lamb to a carving board, cover loosely with aluminum foil and let rest for 15 minutes. Carve the racks into double chops and serve immediately. Place the racks, bread-crumb side up, on a rack in a roasting pan. Transfer to the oven and roast until the crust is nicely browned and an instant-read thermometer inserted into the thickest part of the meat, away from the bone, registers 130°F for medium-rare, 20 to 25 minutes, or until done to your liking.
When placing the racks in the roasting pan, set them so the bones are crossed at the top. © Galley Chef All Rights Reserved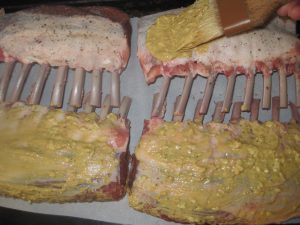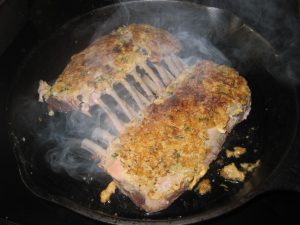 Other  ideas:
Color a couple of dozen eggs and load them up in a big bowl to offer your guests  with a cocktail  before dinner.  Deviled eggs are always a welcome treat as well.  Caesar salad is a delicious  and lite accompaniment with this spring-time meal.   Other great  ideas: roasted root vegetables, asparagus, rosemary roasted potatoes or garlic mashed potatoes.
Dessert: