Twas the day before Christmas and all through the house, was the smell of food baking with the exception of grouse.  The cookies were placed by the chimney with care, for all Christmas guests who soon would be there.  OK so I'm not a poet!  What I am, though, is a person who loves to cook.     The anticipation of Christmas coming has always been a source of inspiration.  This year was no different.   In planning the menu, I wanted the food to be festive, interesting, luscious and a little over the top, yet traditional.  For traditional, I decided to go with eggs Benedict, Quiche, gravlax, bloody marys and roasted chestnuts.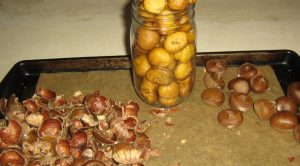 For festive, there were ginger bread eggnog martinis. I thought miniature cheddar grit soufflés in their own little ramekins and prosciutto wrapped figs with balsamic reduction would be interesting and what could be more "over the top" then Blueberry – goat cheese – basil pie.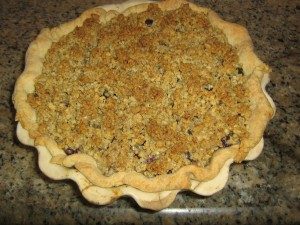 I needed a vegetable to round off the nutritional aspects of the meal so cauliflower gratin was thrown in for good measure. Oh, and one more thing, something special for my husband……….a raspberry crumb cake. He always has had a sweet tooth.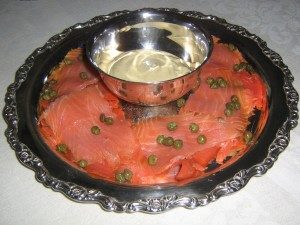 With all the food on the table (except the eggsBenedict, which were made to order), family and friends gathered enthusiastically to celebrate.  My daughter made a scalloped oyster dish that has been in our family since I was a small child.  A neighbor friend of ours shared the recipe with my Mom and Dad that had been in her family for generations.  We loved it so much, it has become a tradition.  My daughter's boyfriend contributed a scalloped potato dish with a beautiful golden-brown crusty cheese top.
What a wonderful Christmas day it was. There is always an undeniable heartfelt connection when sharing food and conversation with friends and family.
As everyone left I heard them exclaim "Happy Christmas to all, and to all a good bite !"