A loved ones birthday is always a special day. Have you ever thought about what makes birthdays so special?  When you think about it, they're a great opportunity for friends and family to get together and celebrate the birth of those people who are near and dear to our hearts.  Add to that, a great meal to share with each other and you have a worthwhile gathering. Growing up, my Mother would ask me and my sisters every year what we wanted for our birthday dinner.  We would always request something that we relished, like lobster or steak.  Year after year she made us feel overwhelmingly special on our birthdays by carrying out this practice.
This week a good friend had a birthday.  Keeping with the tradition, I asked her what her favorite meal is.  "Steak" was her enthusiastic reply.  That is how this birthday meal began.  One by one, menu items were added to complete the perfect meal designed just for her.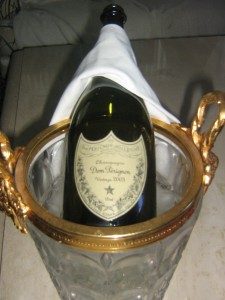 We got the party started with a bottle of 2003 Dom Perignon and a birthday toast.  For dinner, we started with the classic steak-house wedge salad with blue cheese dressing and crumbled bacon.  Filet Mignon was the main attraction.  It was wrapped in bacon and cooked to a medium-rare temperature then topped with a gremolata (garlic, parsley and lemon) compound butter.
Mix all the ingredients together in a bowl. Turn it out onto a sheet of plastic wrap and roll into a tube about 1 inch in diameter. Refrigerate until ready to use. When ready to use, slice off 1/2 inch piece and add to hot steaks while resting.
This compound butter can be stored in the refrigerator for up to a month. Use it as needed to add flavor to steaks, fish, pork, chicken, or use it to cook omelettes. © Galley Chef All Rights Reserved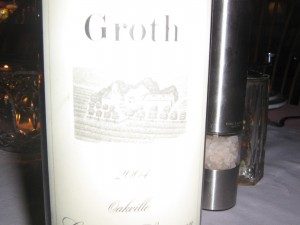 The steak was paired with asparagus and creamy hollandaise sauce and a big bold 2004 Groth Cabernet Sauvignon.  For dessert, the cake was brought out, we sang "Happy Birthday" and  a wish was made.  The cake was a rich, dark chocolate sachertorte with raspberry filling and whipped almond cream flowers.
Preheat oven to 350 degrees. Butter and flour a 9 inch cake pan. In a bowl, combine the chocolate and butter and melt over a double boiler. Set aside to cool. In a mixer, using a wire whisk, whip the egg yolks and 3 tablespoons of sugar until light and ribbony. Beat in the chocolate mixture.

In another bowl, beat the egg whites and salt until soft peaks form. Slowly add the remaining 2/3 cups of sugar and continue to beat until stiff peaks form. Fold in the flour to the chocolate mixture and then fold in 1/3 of the egg whites into at a time until it's thoroughly incorporated. Pour into prepared cake pan.

Bake for 35 miinutes or until done. To check for doneness, insert a paring knife or toothpick in the center of the cake. It should come out dry. Remove from the oven and cool on a rack.
To make the raspberry filling
Puree the raspberry preserves in a food processor and stir in the liquor.

After the cake has cooled, slice it horizontally into 3 equal layers. S

Spread half of the raspberry filling on the bottom layer. Top with a second layer of cake. Spread the remaining raspberry filling and top with the last layer of cake. Chill for an hour.
In a bowl, combine the chocolate and butter. Melt over a double-boiler. Bring the cream to a boil. Sitr into the melted chocolate. Cool until it reaches glazing consistency. Spread over and around the cake. Chill for 30 minutes before serving. Serve with whipped cream or ice cream.
Eduard Sacher completed his culinary training in Vienna with the Royal and Imperial Pastry Chef at the Demel bakery and chocolatier, during which time he perfected his father's sachertorte recipe. The cake was first served at the Demel and later at the Hotel Sacher, established by Eduard in 1876. Since then, the cake remains among the most famous of Vienna's culinary specialties. © Galley Chef All Rights Reserved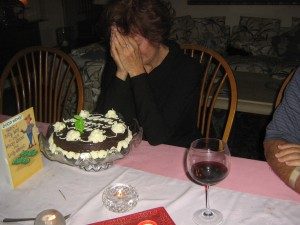 It is a privilege and an honor to be asked to celebrate a birthday with a friend.  This is one birthday celebration that will undoubtedly go down in my book as one of the most memorable.